Escape – The API discovery & security testing platform is now available on AWS Marketplace
With Escape now available on AWS Marketplace, we're making it easier for all AWS-affiliated organizations to automate the discovery and security testing of all their exposed APIs.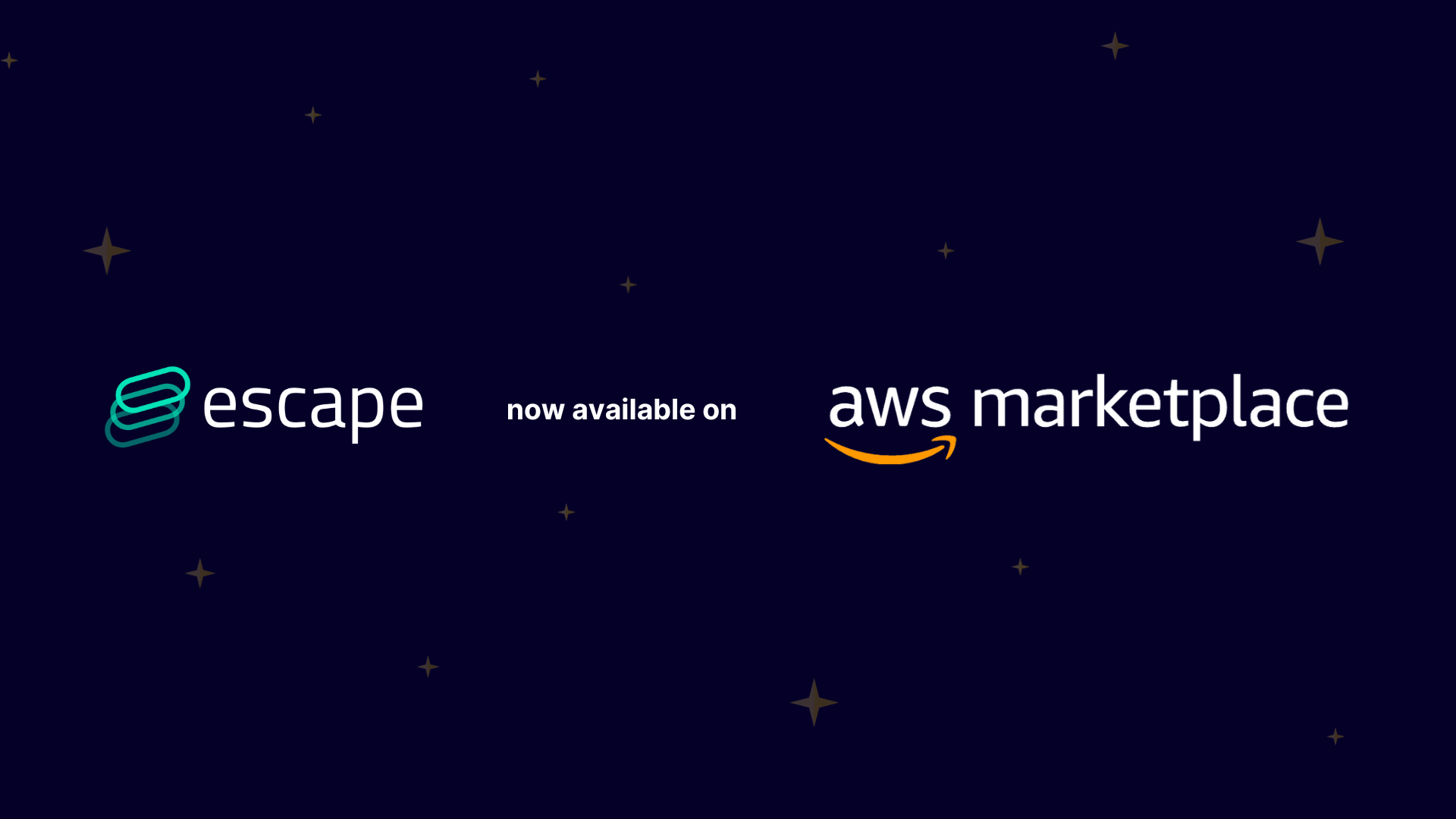 Securing 100% of your APIs has just become easier. It's time for your Application Security teams to relax and celebrate - Escape is now available on AWS Marketplace! Through AWS Marketplace, Escape offers flexible app scanning and purchasing options to enable organizations to integrate Escape into their security stack. Buy directly from the marketplace, simplify your procurement process, and get to secure APIs even faster!
💡
AWS Marketplace
is a curated digital catalog for organizations to find, buy, deploy, and manage third-party software, data, and services to build solutions and run their businesses.
Escape on AWS Marketplace

"Bringing Escape to AWS Marketplace is a significant milestone in our mission to strengthen API Security and make security engineers and development teams work together efficiently by shifting security left. Escape runs in CI/CD and streamlines remediation with developer-friendly code fixes. Unlike DAST and classic API Security tools, Escape does not only find vulnerabilities but also helps security teams automate their API Inventory and achieve full security observability.", Tristan Kalos, CEO Escape
By implementing Escape in their security stack through AWS Marketplace, organizations can quickly implement continuous security monitoring, offering real-time insights into potential vulnerabilities, ensuring proactive protection, and keeping your development process agile and responsive to constantly emerging security threats.
Your security teams can benefit from Escape's unique combination of features:
API Inventory: Automate the discovery of your APIs and benefit from visibility, context, and prioritization to address vulnerabilities before they can be exploited.
API Security Testing, powered by AI: ensure a comprehensive security coverage of 50+ security tests for GraphQL & REST APIs, including OWASP Top 10, business logic, and access control.
Shift Security Left with Automated DAST Scanning: Seamlessly plug Escape into your CI/CD systems like Github Actions or Gitlab CIs to catch and fix security issues before they reach production.
Developer-friendly remediation snippets: Gain instant access to the affected repository and developer-friendly remediation code snippets, allowing you to resolve identified security issues quickly.
Additional benefits from purchasing on AWS Marketplace
Let's dive into how purchasing Escape through AWS Marketplace can simplify your life and bring not only the advanced security features of Escape mentioned above but also several operational enhancements. Here's a closer look at the major customer advantages:
Faster procurement: Purchasing Escape through AWS Marketplaces simplifies procurement approvals
Simplified billing: Customers get a single consolidated AWS invoice for all the purchases made through the AWS Marketplace with complete visibility over their spending in a single location, thus giving them a hassle-free experience.
Cost-effective procurement by leveraging dedicated AWS spend: AWS Marketplace purchases count towards customer commitments under the terms of their Enterprise Agreements. By purchasing Escape through AWS Marketplace, the AWS spend associated with Enterprise Agreements runs down as the customer consumes Escape services that run on AWS. Thus, customers can take advantage of available AWS spending to accelerate planned projects and strategic Application Security objectives.
So, choosing Escape through AWS Marketplace isn't just about buying a product. It's about saving time, simplifying your bills, and making the most of your budget for a more efficient and secure future.
Flexible application scanning options
Through AWS Marketplace, Escape provides several offerings, and you'll be able to get access to the Escape Enterprise Plan by choosing one of the two options below:
AWS Marketplace Public Offer, where customers can select one of the publicly available offers based on the number of scanned applications per customer while benefiting from the rest of the features included in our Enterprise plan, like unlimited scan frequency and dedicated technical support. Escape offers 3 pricing tiers, including either up to 15, up to 60, or up to 120 scanned applications.
AWS Marketplace Private Offers, where customers negotiate pricing and terms with Escape. Then Escape creates a private offer for the AWS account designated for the customer, and you can purchase this offer straight away. Don't hesitate to reach out to our team!
Get started today
The collaboration between Escape and AWS Marketplace presents an exciting opportunity for businesses to improve their API security posture while taking advantage of purchasing simplicity.

Check out Escape on AWS today, or contact our team to learn more!
Stay secure,
Your Escape team